Forecast Forum 2019
The Candidates Have Been Selected!
Forecast is pleased to announce the participants in this year's edition of the Forecast Forum.
While each of the six mentors made individual decisions, the 18 selected projects share certain commonalities: all of them imply critical approaches that question and challenge political and personal realities, and they all stem from creative thinkers who implicate themselves in the work, as activists or documentarians.
The six distinguished mentors have selected 18 projects out of nearly 600 applications from 100 countries. Each of the mentors of Forecast's fourth edition has chosen three projects to accompany in the upcoming weeks, and experience closely during the week of the Forecast Forum, taking place at radialsystem in Berlin, July 1–7, 2019.
The Forecast Forum culminates in a weekend of presentations. At the Forum's conclusion, each mentor will select a single project that he or she will advise closely over the following nine months. The outcome of the mentorships will be presented at the Forecast Festival, taking place at the radialsystem March 30–April 5, 2020.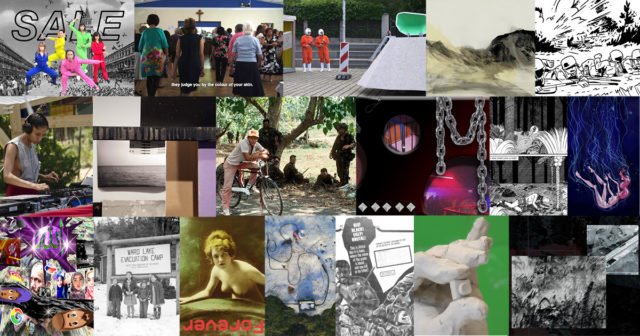 The candidates in each category and their mentors
Moving Images: Candice Breitz
Ellen Lapper (UK), Renée Akitelek Mboya (KE), Bijan Moosavi (IR /UK)
Expanded Documentary: Paolo Cirio
Josefina Buschmann (CL), Confusion of Tongues (Marthe Prins, Benedikt Weishaupt) (NL /DE), Sue Montoya (US)
Your Musical DNA: Okkyung Lee
Olli Aarni (FI), Sara Bigdeli Shamloo (IR), Dani Kyengo O'Neill (ZA)
Ink Paper Thought: Anders Nilsen
Jonas Madden-Connor (US), Mónica Naranjo Uribe (CO), Eugène Riousse (FR)
Stories in Sound: Joe Richman
Caty Enders (US), Caroline Lester (US), Melissa Pinel (PA)
An Activism in Design: Jerszy Seymour
Peter Behrbohm and Anton Steenbock (DE), Parasite 2.0 (Stefano Colombo, Eugenio Cosentino, and Luca Marullo) (IT), Questions Collective (Tessel Brühl, Flavia Osadzinska Faas, Rosanne Juanita Phinou Pollmann, Céline Margriet Talens, and Julia Anna Ida Veldman) (NL)