A project by Flora Miranda
Knitting Virtual Luxuries
Flora Miranda's proposal presents an application that collects data about a user's online behavior to design a unique item of clothing specifically for him or her.
"The vision is to create a data visualization app that takes full advantage of the virtual world and materializes user data in the form of luxurious garments. The user's behavior in virtual space directly influences the product design, creating an interaction between online user activity and the independent design app."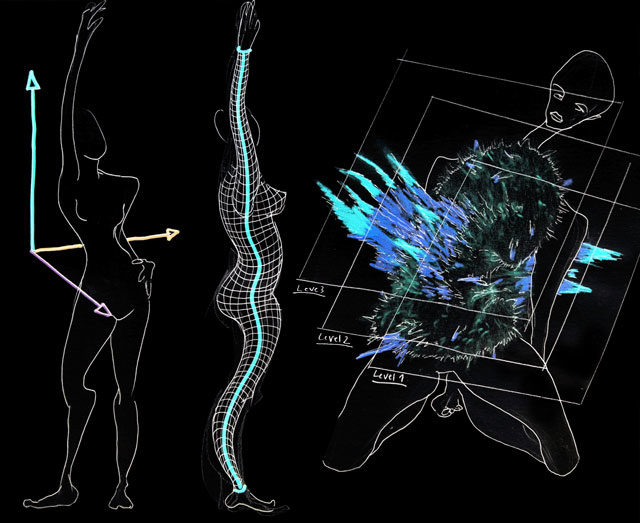 The user signs into the app, enabling a plug-in that examines browsing history. The app gathers information about the user's personality and online identity by mining Google searches, Facebook friends, contacts, places he or she has visited, music downloaded, and other markers. The user is prompted to select keywords related to his or her dreams, emotions, desires, and wishes. This data is combined with the user's preferences on fabrics, care instructions, and price.
In a second step, a garment is knitted. The user can view and modify the piece by changing keywords, time periods, or indeed by surfing the web in a new way and generating a new pattern of online behavior. Once he or she orders the garment, the data visualization is translated into three-dimensional space, forming a textile topography. The end of the process finds the individual dressed in his or her own unique digital identity.
The proposal echoes Miranda's 2016 project Press Reset, which exploited the possibilities of textiles poured into wearable materials to erase old paradigms and formulate new textures and textiles. It also takes up themes from the designer's _sidereal_ethereal_immatereal_ fashion collection, in which she drew on the themes of teleportation and quantum physics to create futuristic silhouettes that allowed the body to decompose into single particles. Using a reduced color palette of black and blue, the body appeared to be "scanned" and read as pure information.
Flora Miranda is a fashion designer based in Antwerp. Find more of her work at floramiranda.com.
Image: Flora Miranda