A Project by Ewa Wesołowska
Untitled
In her project proposal, Ewa Wesołowska ties the fundamental ideas of a light-sound installation to traditional and modern sculptural elements. From her point of view, traditional sculptural technique is synonymous with memorization, like a trace of a human hand left on the surface of an object. When she started working with light-sound installations, Ewa Wesołowska wanted to preserve these human traces and combine installation art with traditional sculptural craftsmanship. Thematically, her work is based in ideas of light and darkness and touches on the question of how we remember things when we are no longer able to see them.
"I think of my practice as a trace of presence, and as a reference to memory perception. It is a desire to preserve the moment. My work is about trying to keep a trace of a human touch, and it also displays the inability to do so. The desire to maintain the trace and history of an object reveals instead the opposite: The more we try to hold onto a trace, the more we pinpoint the lack of one."
These concepts also characterize her work Music Box, an installation within a darkened space lit by a single light suspended from a revolving circle hanging from the ceiling. The mobile light casts shadows onto the walls from pendant sculptural objects, clay balls formed by the impression of a squeezing hand. Ewa Wesołowska created her installation re_. in an old dovecote using the ceramic vases that served as housing for pigeons. She placed the old vases against the window, so that sunlight cast patterns of light on the floor during the day. After nightfall, these impressions were re-presented as a projection on the wall, accompanied by recorded sound. The sound played as a loop that multiplied every few hours to evoke an experience of a former presence in its present absence.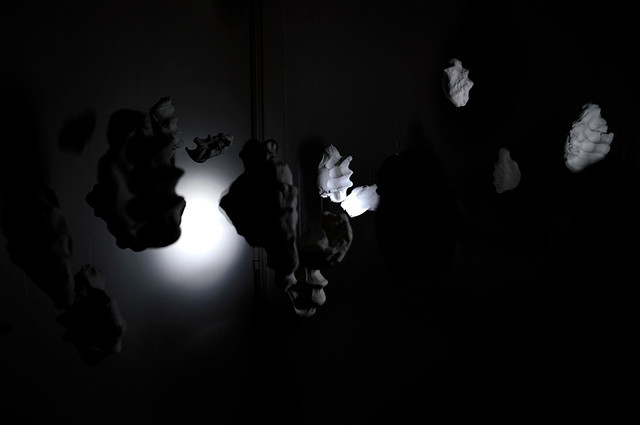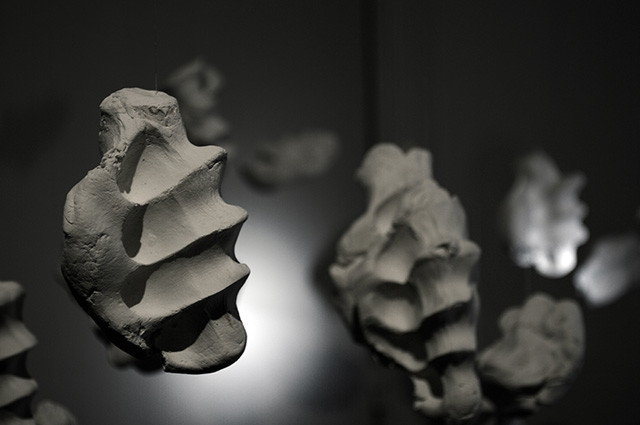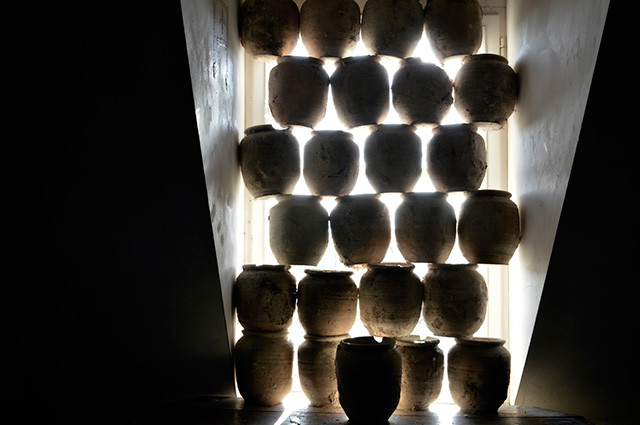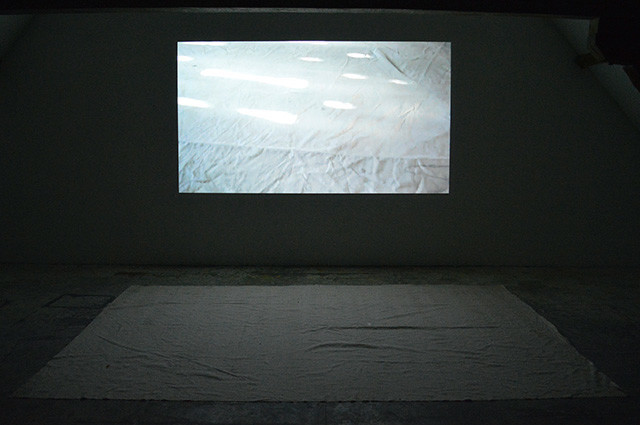 Ewa Wesołowska is an artist living in Cracow. You can browse other projects mentioned in her portfolio at ewawesolowska.com.
Photos: Ewa Wesołowska