The Selected Projects for Forecast's Fifth Edition
The six mentors selected 18 projects—three for each mentor—out of nearly 500 applications from 98 countries. All 18 nominated projects will benefit from mentoring through the end of October.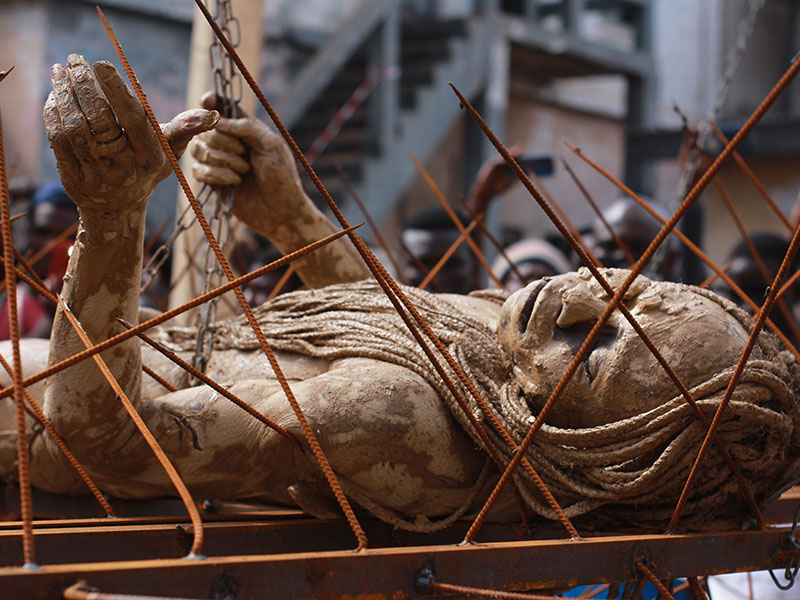 Va-Bene Elikem Fiatsi [crazinisT artisT]
Emergency CODE: pAUSE and pULSE
Artist and performance curator Va-Bene Elikem Fiatsi plans to investigate the relationship between contemporary performance art, rituals and performative artifacts, and organic and inorganic materials. She proposes a durational performance that's an artistic exploitation of the performer's body as clinical code and mediator between performances and the audience in contemporary art practice. The project will also explore currents within the medium of durational performance, its materiality, spiritual embodiments, and poetic symbolisms. Elikem Fiatsi aims to create improvisations that could challenge the perceptions of time while transforming performance energy and emotions into sculptural pieces, solidifying acts and actions into objects.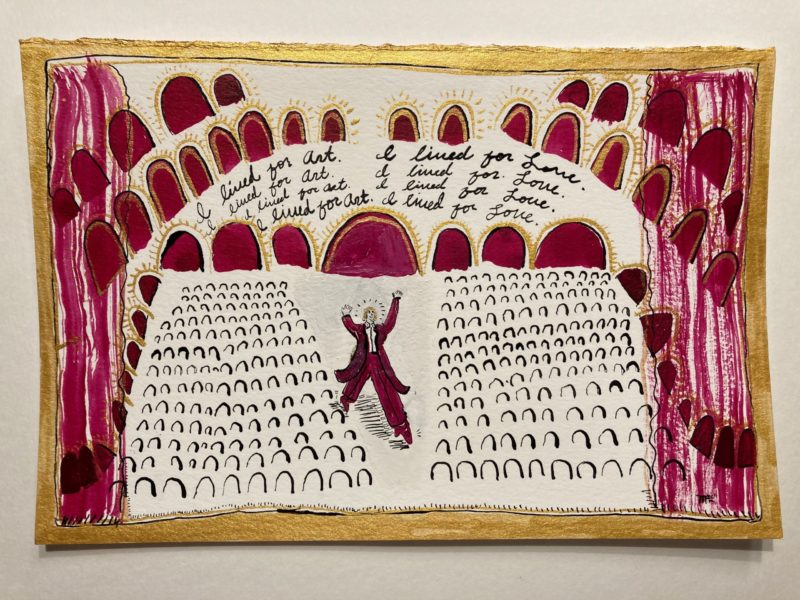 Lulu Obermayer
L'OPRA FATALE
In her practice, Lulu Obermayer engages with female subjectivity, agency, and representation on stage, often in the context of operas. Companies and opera houses around the world stage the same canonized repertoire again and again, and though the productions may get modernized, the often tragic fates of the female characters persist. Obermayer perceives this phenomenon as an ongoing durational performance that perpetuates specific narratives about femininity. Her project L'OPRA FATALE hijacks the canon in order for the female characters to protest against their limited agency on stage: female protagonists from the ten most played operas worldwide are brought together to challenge their role as the Other and unleash their subversive potential. Obermayer will expand her solo performance practice by working with opera singers for the first time.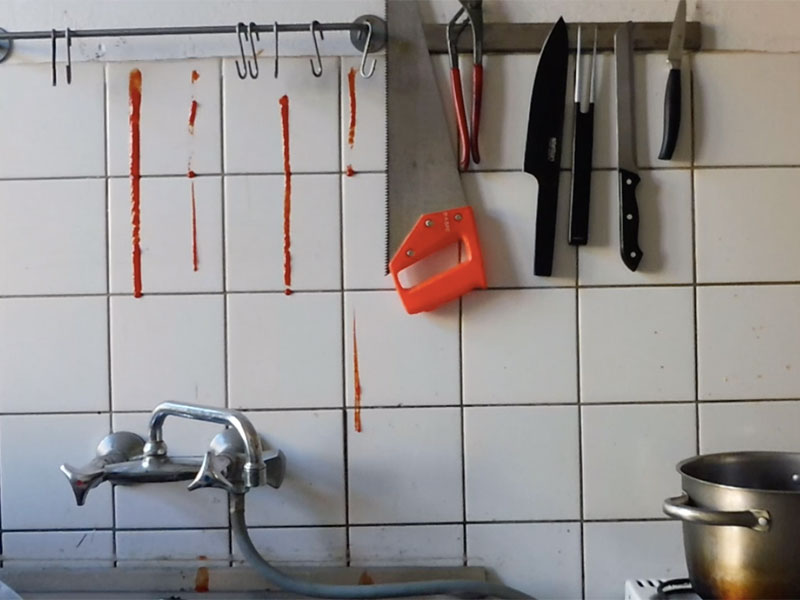 Only Game in Town
LD50: Der Vorkoster
The duo Only Game in Town (Louise Pons and Mirjam Schaal) proposes a series of short performances that use all the markers of a reality TV cooking show. The set, the contestants, the panel of judges, and the host are all there, yet something is off about this cooking contest. A fake television studio, which highlights the imperfections of theater as a medium, will become the container within which different stories are told: stories of life and death, of birth and cannibalism, of gathered and hunted food. The fictional characters enter this dystopian setting in which they will try to create a mysterious antidote. An antidote for what? Or against what? Save the world? Heal a monster? Eradicate Coronavirus? An antidote that counters the antidote? As the Only Game in Town, Louise Pons and Mirjam Schaal create their own rules.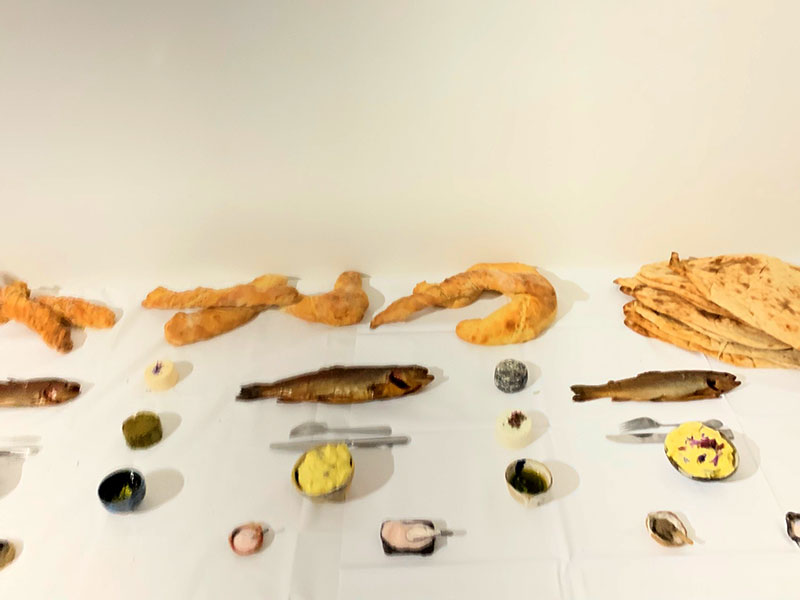 Paula Erstmann
Community Food Lab
Paula Erstmann is part of the sociocultural initiative Zusammenküche at Dragonerareal, Berlin, a yet undeveloped site for 500 social housing units. There, she proposes to establish a community kitchen that explores the needs of future tenants and neighbors and encourage them to think of food as an aesthetic means of communication and exchange. The kitchen will be a place to invent new scenarios for food and to rethink its possibilities at the intersection of everyday life and art. Erstmann describes herself as a food poet, recipe liberator, and amuse-gueule avant-gardist. Her performances, menus, and culinary installations explore the social context of the dishes on display and their characteristic qualities; they also carve sensual as well as social spaces. Above all, they encourage us to perceive food—and its presentation—as an aesthetic and resonant medium of communication, and to rethink its possibilities.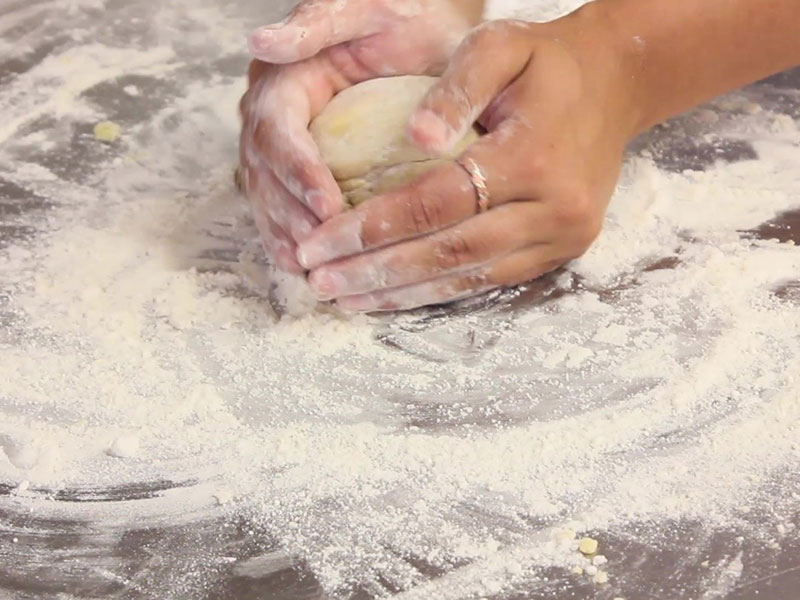 Elijah Ndoumbe
Bienvenue À Ma Table
Multidisciplinary artist Elijah Ndoumbé's project for Forecast is a multimedia eating experience for a live audience. The proposal seeks to bring traditional food from the chef's Cameroonian and French roots to audience members while immersing them in various aspects of the cooking process: Through moving images, photography, and sound, Ndounbé will contextualize what the meal symbolizes and represents for its maker, and track the origins of the ingredients used in the cooking process. Ndoumbé's artistic practice engages with embodied methods of artistic connection, revolution, and radical imagination. As a member of The Queer Salon in South Africa, Ndoumbé is already involved in creating spaces for such encounters.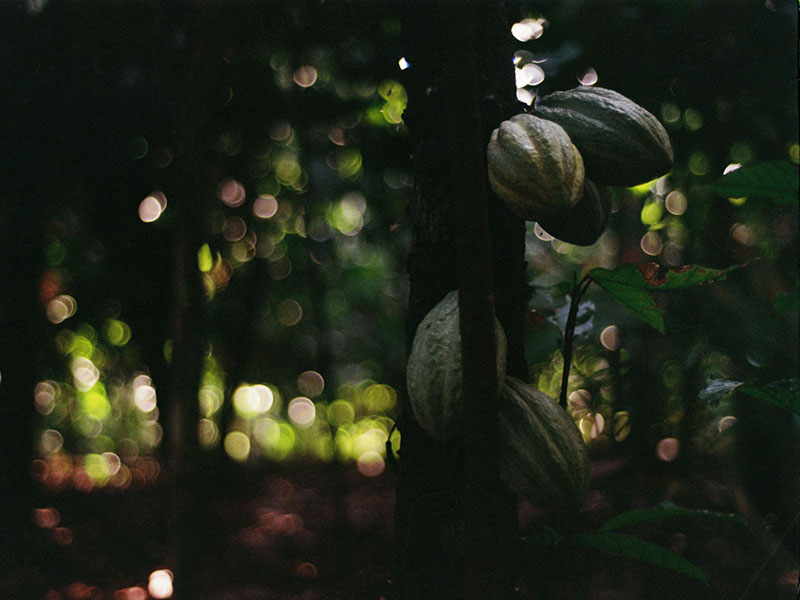 Andrea Nones-Kobiakov
Whatever That Ground May Be
Artist Andrea Nones-Kobiakov works across photography, performance, and site-specific installations to pursue themes that reflect on displacement and comfort through the materiality of food and ingredients. In her project for Forecast, Nones-Kobiakov proposes a reimagining of urban farming while focusing on family recipes and associations attached to certain smells and tastes. With this new type of urban farms, she explores our relationship with our surroundings through food. Using a mixture of poly- and permacultural techniques with newer technologies such as hydroponics and specially designed greenhouses, she aims to build site-specific permaculture crops. These will in turn create self-sustaining ecosystems that grow specific recipes. This project will start with a selection of close family recipes, allowing our sensorial memories to flourish.
Yelta Köm
Hide & Seek
Researcher, artist, and architect Yelta Köm looks at mapping technologies, digital image production, and data collection processes to understand how surveillance systems and data-driven structures influence heritage and memory-building, as well as a city's appearance. His proposal asks how technology will affect the virtual imaging of future cities—and what kind of resistance mechanisms could emerge to counter them. He proposes a series of public interventions on various scales to camouflage surfaces, inspired by calibration targets for satellites used for aerial photography and mapping systems. The documentation practices used for urban heritage purposes offers vital opportunities to decelerate this process by developing an understanding of the living environment, and what could be left for future generations.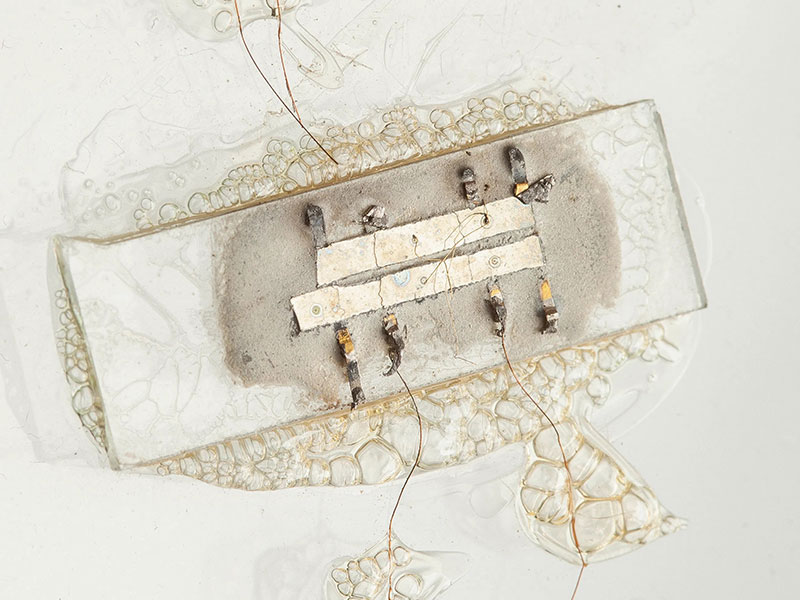 Joana Moll
Inanimate Species
In 1971, a group of engineers designed the first commercial microprocessor, the Intel 4004. This event marked a crucial moment in recent history, as for the first time it was possible to transfer intelligence to an inanimate object. Interestingly, while humanity began perfecting and increasing the power of this new artificial intelligence, the planet's wildlife began to go extinct at an exorbitant rate: since 1970 humanity has wiped out 50 percent of the planet's species. Artist and researcher Joana Moll's project is based on the hypothesis that humanity nourishes more its relationship with machines than with its life-giving ecosystems, and that the acceleration of extinction processes is correlated with the geometric explosion of technocapitalism. She will create an encyclopedic catalogue that will connect the production of commercial microprocessors to species extinct from 1971 to 2020. In our present context, where climate change is already an everyday reality, to analyze and reveal these correlations becomes extremely necessary to imagine alternative techno-paradigms, which may coherently respond to our environmental and human conditions.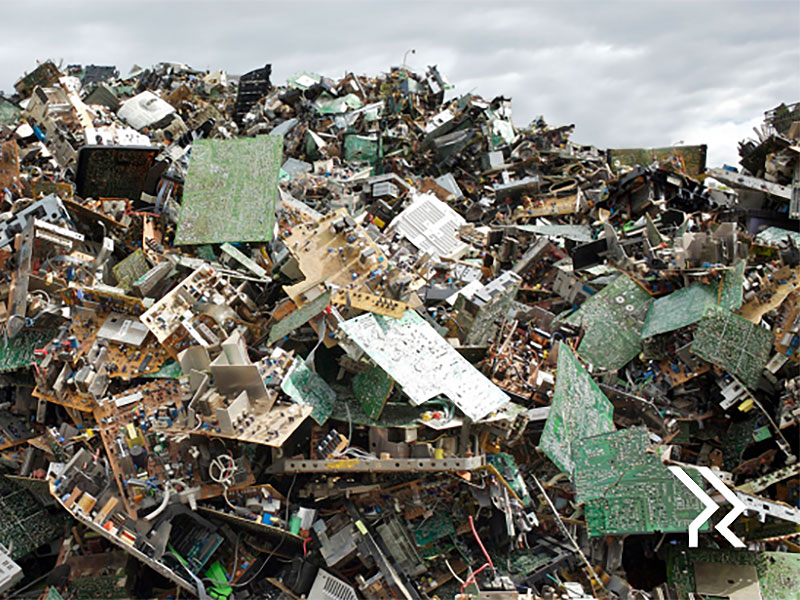 PostRational
Cyber-Waste
Founded in 2016 by Dan Gavshon-Kirkbride and James Pockson, PostRational deploys methods of research, speculative fiction, and world-building as critical design tools with which to explore questions outside the realm of conventional design and architecture. For Forecast, PostRational proposes an exhibition around cyber-waste, a neologism that describes both eWaste, the physical refuse of dead or redundant electronic goods; and digital detritus, the materiality of digital infrastructure and the digital economy. This includes the carbon footprint of data centers, the hidden logistics infrastructure of the digital economy, the inextricable links between cloud computing and fossil fuels, and the persistent paradigm of the Internet as an archive of behavioral experimentation and not a technology of communication. Their project suggests that a critical study of cyber-waste and the risks and the opportunities it presents, will help us identify highly relevant interconnected questions about energy systems, disposability, resource exhaustion, and social coordination in the twenty-first century.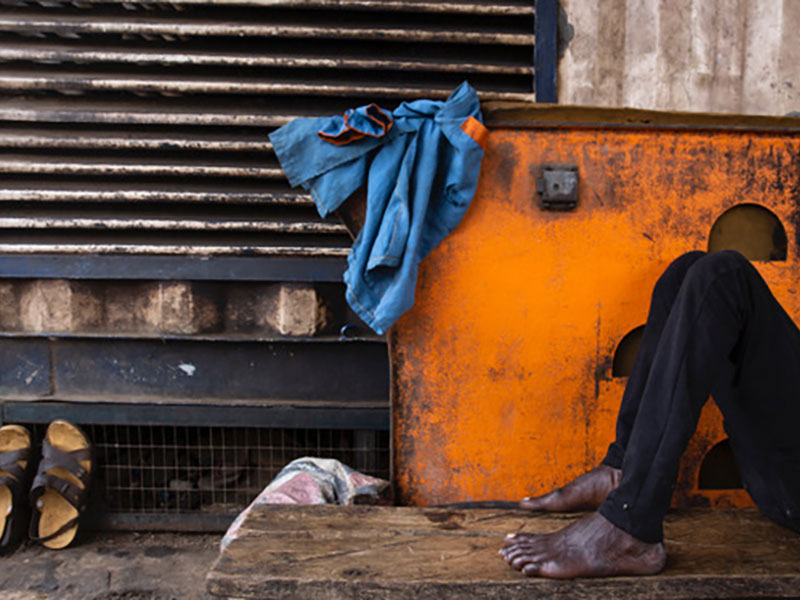 Adeola Olagunju
Born Throw Way!
"Born throw way" is a Nigerian Pidgin English term that describes someone rejected by their family or excluded from their societal context. It can also be used to describe anyone who behaves in socially or culturally unacceptable ways, doesn't fit in, or transgresses against the popular norm. Artist Adeola Olagunju's project explores the subculture, counterculture, and minority variants of street kids known as "Area Boys" in Lagos, Nigeria, and the structures that sustain them. What is the psychological space of people living on the edge of society? How is the struggle of being and becoming reflected in the performance of their daily lives? These questions guide her research as she attempts to document the lives and the poetic space of the outsiders in Lagos.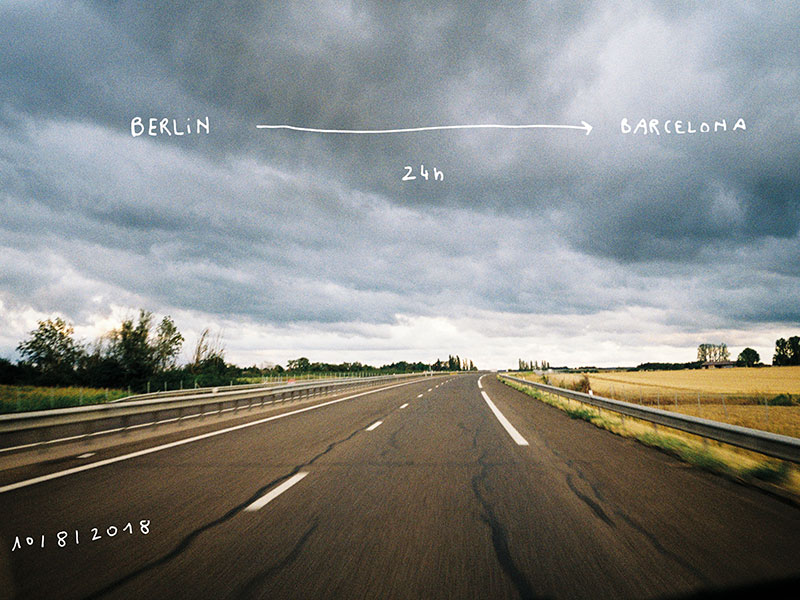 Mafalda Rakoš
My Boring, Happy Project—A Hitchhiker's Finger on the Pulse of Time
Mafalda Rakoš is a documentary photographer trained as an anthropologist. Her project is research into the social psychology of Europe's highway system, with a destination yet to be determined. Hitchhiking is a disappearing tradition, but her self-described "obsession" with it is partly inspired by encountering strangers in the intimate setting of their own vehicle. "'Are you not afraid?' I am naturally asked the moment I enter the car," she says. What does it mean when a 23-year-old driver offers her a lift, but before putting her backpack in the trunk, nervously makes sure there are no bombs in it? What can she learn from hourlong conversations with Russian truckers, newlyweds, the driver of a "cocaine taxi," or the founders of the Dutch Hairdressers Award?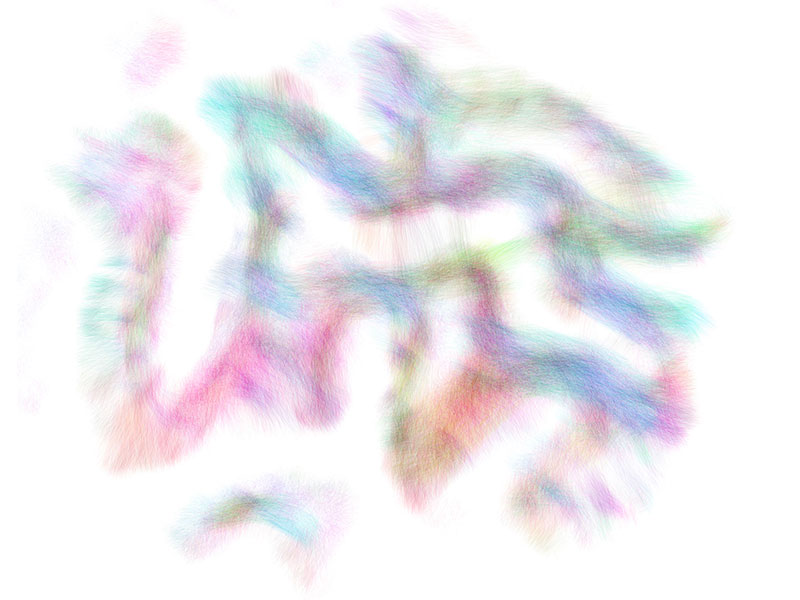 Matthew C. Wilson
Fictious Flora
Science and culture deposit scenarios, stories, and images of possible futures into a collective pool—a future imaginary. Technologies and societies materialize and manage fragments from this intersubjective archive of the possible. Many fictions uncannily become reality. Yet the sieves of structural conditions prevent other imagined possibilities from materializing. These historical filters can be pierced by potent images introduced into the future imaginary. Visual artist and experimental filmmaker Matthew C. Wilson investigates, images, and reimagines this process within the framework of his ongoing project Fictious Flora. He works closely with the scientific community. His methodological eclecticism amalgamates diverse modes of image production and scenario generation; these include documentary and experimental film, science fiction, scientific imaging, and visualization.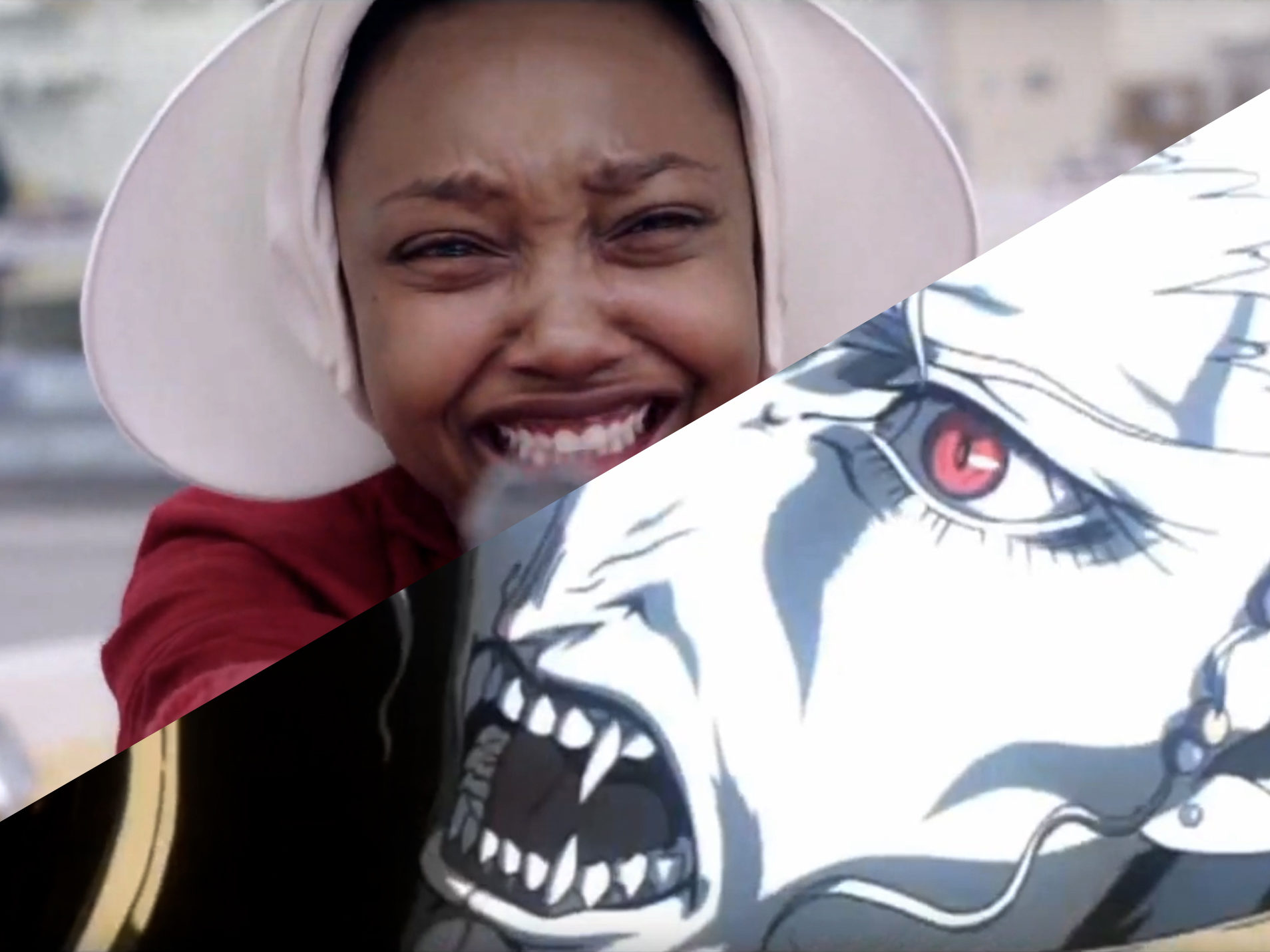 Christa Joo Hyun D'Angelo
Mother Night
Artist Christa Joo Hyun D'Angelo proposes a multichannel video installation that confronts how fertility, eugenics, and class shape the idea of the family based on ethnic belonging. The project interrogates colonial legacies and male desire, while examining how racial and class lineage function within family dynasties. In order to fathom this long-standing tradition, she argues, it is important to understand what family legacies reveal about our fears, fantasies, and expectations, and how power and anxiety inform and sustain this cultural phenomenon. In MOTHER NIGHT she dismantles the institution of the family while redefining it beyond racial kinship. The installation thus imagines family as a relative experience that brings us together, rather than sets us apart.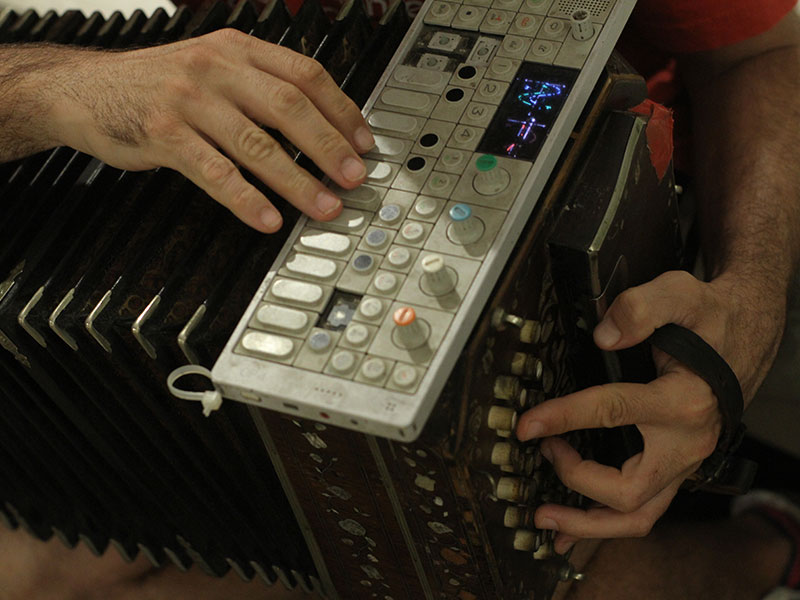 Segundo Bercetche and Tomi Lebrero
Eternal Procession
The bandoneon, a musical instrument similar to the concertina, was originally developed in Germany for religious processions. By the late nineteenth century, sailors brought it to Buenos Aires, Argentina; there, according to bandoneon player Astor Piazzolla, the instrument ended up being used in brothels and cabarets. Based on the bandoneon's complex history, musicians Segundo Bercetche and Tomi Lebrero will work on a new musical performance that would reconnect the instrument with its folk roots in both religious processions and cabaret shows, while simultaneously posing questions about its possible futures.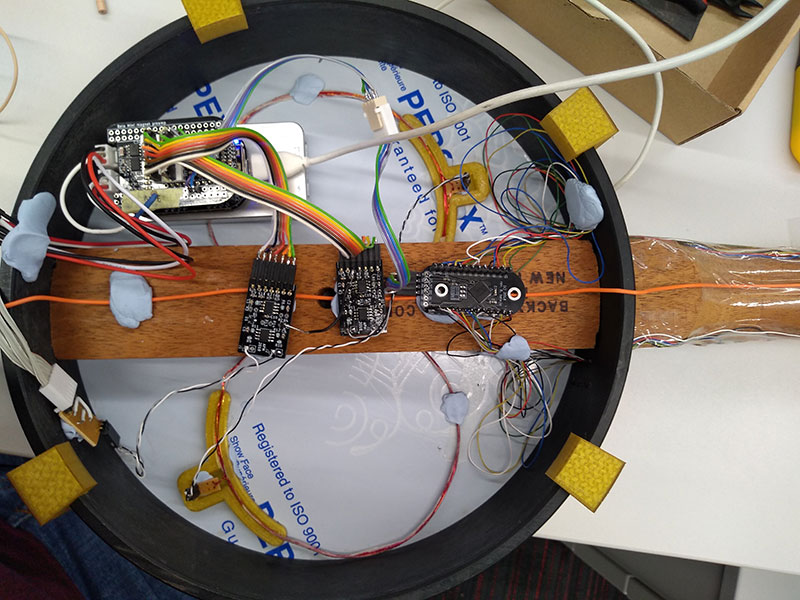 Jonathan Reus
Electric Folkways
Jonathan Reus is an experimental composer and sound artist working at the meeting points of music and (post)digital culture. He proposes a multidisciplinary project that encompasses music composition, electronic instrument-making, myths of musicology, and technoculture. Electric Folkways looks to build on the networks of cultural transmission in American folk music—an idiomatic example of the pluralistic American identity, tracing isolated communities and musical trade routes through myriad cultural folkways in European, African, and Indigenous American music cultures. Reus will work toward developing a new musical and instrumental language through a remix approach to musical folk technologies: His project draws together folk instruments, oral traditions, local notation systems, twentieth-century recording technologies, musicological archives, and contemporary artificial intelligence systems.
Myriam Amroun
Programming rhizome
Myriam Amroun is a cultural practitioner and a curator based in Algiers. She is the artistic director of the cultural organization rhizome, which she cofounded in 2017. Inspired by the rhizomatic model of thought developed by Gilles Deleuze and Félix Guattari in the 1970s, the organization has been supporting artists, researchers, and cultural practitioners since its inception, while ceaselessly evolving as a non-physical space. Rhizome is now opening an experimental culture and arts space in downtown Algiers, with the aim of building bridges between locals and the arts community to explore new mediation and engagement tools. As part of her concept for Forecast, the space will offer a wide range of programs, including production and research residencies, exhibitions, and public events.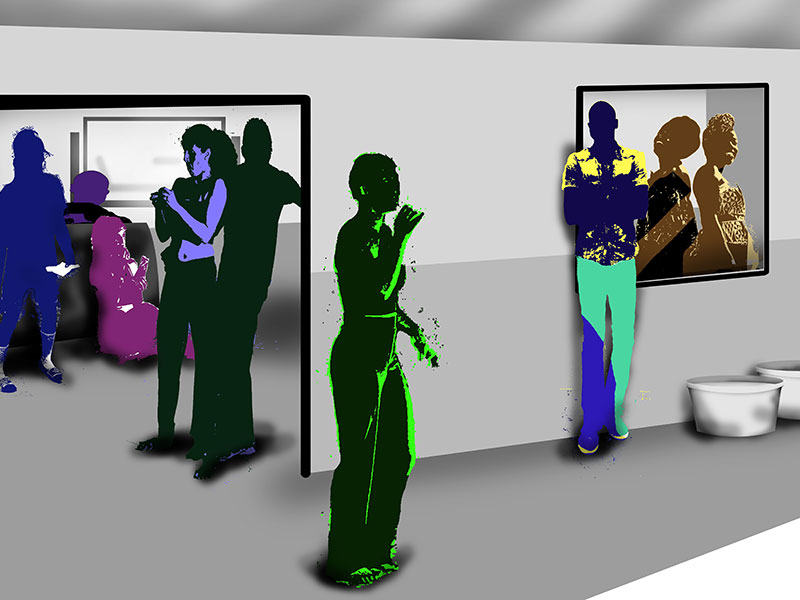 Aude Christel Mgba
Ne Touche Pas À Mon 237
Curator Aude Christel Mgba's project encompasses an itinerant independent institution, whose first iteration is titled Ne touche pas à MON 237. The institution aims to present all the social differences and diversity that can exist within a locality, and which are usually rendered invisible by building a national identity. This institution will aim to create space(s) in which one feels more human, and where belonging is about the struggles and battles of everyday life. It will also be a space for reflecting on the beauty of diversity and differences. In its first chapter, this institution will temporarily inhabit the spaces of a building in Douala, Cameroon, to host events, performances, screenings, talks, exhibitions, concerts, parties, and more.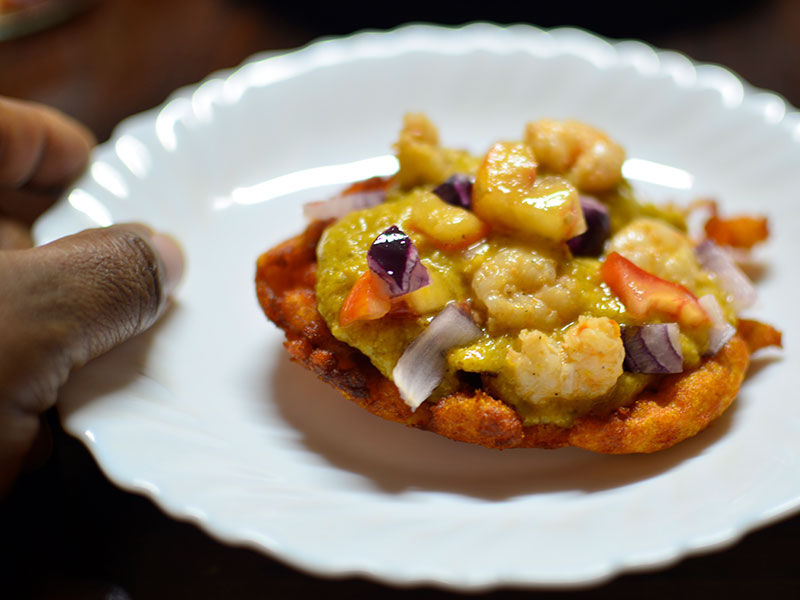 Ozoz Sokoh
Coast to Coast: Lagos to Bahia and Berlin
Ozoz Sokoh, aka The Kitchen Butterfly, is a food explorer and a "traveler by plate," dedicated to exploring social, cultural, economic, and culinary pathways and practices relating to the production and consumption of food. Driven by the conviction that knowledge sharing and exchange take place when people eat together, her project will explore Nigerian and Brazilian street food along with German breads, showing windows into the souls of all three cuisines. Her proposal ties together three strands: her discovery of a personal identity beyond the confines of her geographical home; a passion for and desire to preserve and share Nigerian food history and heritage; and her amazement at how basic ingredients reveal deep connections and histories across the oceans. Her work's goal is to reveal the presence and history of foods in ways not always recognized, and celebrate Nigerian cuisine's impact on global food culture.