Forecast Forum 2018
Forecast Announces the Candidates for Its 2018 Edition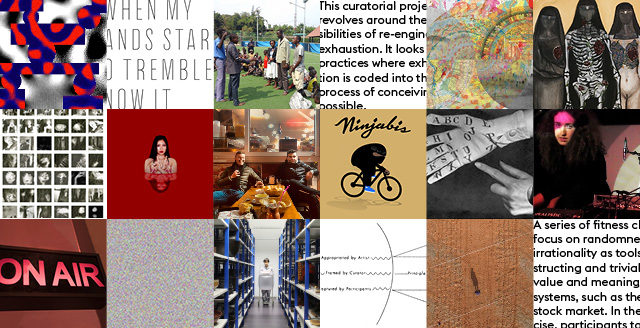 Forecast is pleased to announce the participants in this year's edition of the Forecast Forum. A total of 18 projects have been selected out of more than 390 applications from around the world. The six distinguished mentors of Forecast's third iteration have each chosen three projects that they will accompany in the upcoming months, culminating in a weekend of presentations that will take place under the auspices of the Forecast Forum at the Haus der Kulturen der Welt from May 11–12, 2018.
At the end of the event, each mentor will select a single project that he or she will advise closely. The outcome of these collaborations will then be presented at the Forecast Festival at the HKW from October 12–13, 2018.
The candidates in each category and their mentors are
Living Matter: Laura Lima
Arthur Ban (BI); Saverio Cantoni (IT); Vanessa Brazeau (CA)
Invasive Design: Tulga Beyerle
Corina Angheloiu (RO); Commonplace Studio (CA, NL); Anais Borie, Aram Lee & Ottonie von Roeder (FR, KR, DE)
Beyond Radio: Peter Meanwell
Julia E Dyck (CA); RADIOEE.NET (US, AR); Emiddio Vasquez (CY)
Moving Image: Omer Fast
Eliane Esther Bots (NL); María Molina Peiró (ES); Omar A. Chowdhury (AU)
Composition: Holly Herndon
HIBOTEP (ET); Jessika Khazrik and The Society of False Witnesses (LB); MIIIN (KR)
Looking: David Elliott
Anna Ridler (UK); Sarah Naqvi (IN); Abhijan Toto (IN)
About the individual concepts
Living Matter
As part of his work with the NGO Umunyinya striving to improve the lives of street children in his native Burundi, Arthur Ban proposes a concept that focuses on prevention. Titled Urubumbiro, after the fireplace where families used to gather and converse, Ban's project proposes a radio series that highlights the support system children have in the family cell, and encourages family planning in order to counter the devastating effects of overpopulation.
In his project, Berlin-based Saverio Cantoni confronts us with a provocative conundrum: What will be the media and forms of artistic expression in the post-human era? A paradigmatic shift in the means of representation is underway, Cantoni argues, that will alter the way we rely on perspective, symbolism, and technology and will separate human and machine.
What would the DAX Index look like as movement? Vanessa Brazeau's project proposes a complete workout that takes its cue from the fluctuations of the stock exchange market. The exercises in her fitness class react to the perceived randomness of the global markets with gestures and physical actions, and aim to render an arbitrary and largely opaque system as tangible and useful experience accessible to a wider public.
Invasive Design
In her project Future Forensics, Corina Angheloiu calls for a radical rethinking of the museum: As an institution that was created in the Holocene era, she argues, the museum must find new ways to respond to the accelerated pace and interconnected context of the Anthropocene. Her inquiry homes in on the question of how might the museum evolve from a site of curated storytelling into a site of production and inquiries into alternative futures?
The collaborative practice of Commonplace Studio—run by Jon Stam & Simon de Bakker—suggests critical alternatives to traditional museological presentation. Titled Backchannel Tools, the concept seeks to invade a museum as a site of knowledge-creation with alterations built around guiding ideas such as "wall text to hypertext," "archive to working memory," and "public to participant."
Working as a trio, Anais Borie, Aram Lee, and Ottonie von Roeder design a series of activities dedicated to individual objects in a museum's collection. Artifacts that otherwise languish in storage facilities are taken out and the social, political, and cultural context of their creation as well as the conditions of their inclusion in the museum's collection are revisited and examined from a contemporary perspective.
Beyond Radio
In her project Frequency Interference, Julia E Dyck will create an experimental science-fiction radio drama to be performed and transmitted live. Through live music, spoken word, and field recordings, she will explore the soundscape of the future and the authority of the disembodied voice.
RADIOEE.NET co-producers Agustina Woodgate and Stephanie Sherman will tune in to the radio waves transmitting signals between appliances and machines, a network of data also known as the Internet of Things. In Everything Speaking / Alles Spricht, this human-less form of communication will be rendered audible for the human hear, to channel this imminent future of constant intercommunication.
How does space condition conviviality? In his project titled insofar as, Emiddio Vasquez will explore the connections between processes of community-building and the places where they occur through a participatory sound installation that makes use of FM transmission & FM radios.
Moving Image
Eliane Esther Bots's project The Channel focuses on the profound experiences of the interpreters of the International Criminal Tribunal for the former Yugoslavia in The Hague and their position as a "channel and medium" between speakers and listeners, witnesses and accused, victims and perpetrators, court and attendees.
Artist and filmmaker María Molina Peiró explores the growing fear of forgetting in our society and invites the viewer to rethink the role that forgetting might play in the creation of memory—in both individual and collective terms. Her film The Refuge takes place in La Mancha, Spain, and follows an old lady who's obsessed with the Spanish Civil War, a girl filming compulsively, and a group of bunker hunters using GPS technology to locate lost remains from the war.
In his project Augustijn, Omar A. Chowdhury delves into the meta-history of a young man's conversion to Islam in the post-industrial city of Aalst and the mirrored, ambiguous relations between him and the author, a Muslim-heretic artist. Both find themselves ostracized from the communities which formed them. The theoretics of conversion, of traversing liminal states of identity, and of a politics inflected or even driven by religion are critical threads woven into a narrative that oscillates between fiction and non-fiction, ultimately blurring both.
Composition
Based in Kampala, Uganda, electronic musician Hibo Elmi DJs under the moniker HIBOTEP, and has played to crowds in festivals across east Africa. For her project, titled Ninjabis, she encourages her audience to give up stereotypes and reliance on expectations and experience the unknown, with the help of what she dubs as "Ninjabis, the blasphemous musical terrorists."
MY COMMUNICATION IS NOT WORK is the title of a composition by Jessika Khazrik and The Society of False Witnesses. The immersive voice-based piece uses machine-learning libraries around speech reconstruction, face recognition software, semantic segmentation, and Natural Language Processing to cryptically explore the relationship between language and technology, the ubiquity of media and the politics of the voice today.
The musician and sound artist Jeongmin Jeon, a.k.a. MIIIN, will develop a soundtrack for the post-human future. But MIIIN doesn't mourn the fact that the human race is bound to become extinct. Instead, she eulogizes it with music, using her own language, under the title Xenomiiin.
Looking
In her project Art in an Age of Computational Creativity Anna Ridler considers the fact that more and more art is being made using Artificial Intelligence but there's almost no language to talk about it in a fine-art context. By choosing to produce an image or a work using machine learning, an artist provides the viewer with an entirely different experience, history, and contexts to consider. What are these associations and how might they be used?
Sarah Naqvi proposes a critical series of works commenting on polarizing cultural and religious practices that have given rise to waves of violence across her native India in recent years. Historically, Indian society, and Hinduism as a religion, have been associated with tolerance, compassion, and a "live and let live" attitude. However, in the prickly social climate that the current government has fostered, even an issue as seemingly innocuous as dietary preference has become dangerously divisive.
Does exhaustion harbor a productive potential? Abhijan Toto proposes a curatorial project based around the possibilities of re-engineering exhaustion. In the age of burnouts and performance-enhancing drugs, Toto looks at practices where exhaustion is coded into the process of conceiving the possible, and taps into the flipside of a phenomenon that society labels as negative.