Heather Martin
The Best Way to Interface with a Machine
"Just because technology is capable of doing something does not necessarily mean it's the right thing to do."
Heather Martin is a pioneer in user-experience design (UX) and a renowned industry expert in interaction design. As Vice President of Design based in Smart's London studio, she leads multidisciplinary global teams on large-scale user experience and service design projects. With a career spanning both academia and consulting, Martin has taught at both the Royal College of Art and the Interaction Design Institute Ivrea (IDII), while also cofounding the Copenhagen Institute of Interaction Design.
Having steered key projects at the London-based design consultancy Tangerine, a highlight at the design firm IDEO included collaborating with architect Rem Koolhaas on an interactive dressing room for Prada's NYC flagship store. Martin is now a driving force behind Smart's service design approach, with a focus on creating disruptive experiences in highly commoditized industries. By developing a more personalized service across digital and physical touchpoints, Martin believes brands can enhance the user experience and expand customer loyalty.
Her contributions have been recognized with Gold and Bronze Business Week Awards, as well as Wallpaper's "40 most influential designer under 40" honors. Notable clients include Lufthansa Technik, HSBC Private Bank, and Ford. Frequently speaking on diverse topics such as the future of mobility, and digital disruption in business, Martin has most recently applied this thinking for clients in the home entertainment, health care, and transportation sectors. Playing a crucial role in mentoring the next generation in their craft at Smart, and judging talent via awards such as the Braun Prize, Martin guides designers to think more holistically about creating meaningful, real-life solutions from big ideas.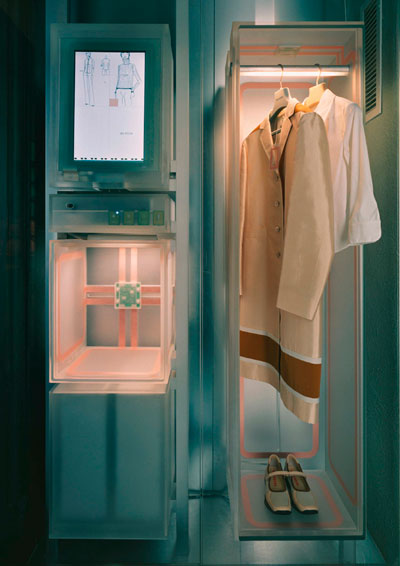 Freo Majer in Conversation with Heather Martin
What is on your mind right now? Looking toward the future, where do you see questions or challenges that spark your interest?
I am currently focused on designing new digital experiences for the automotive and airline sector. It's an interesting time for the transportation sector because, like a lot of other sectors, it's facing massive disruption. Airbnb is disrupting the hospitality sector, Uber is disrupting the taxi industry, and now car companies are being disrupted as people start to book cars on demand. This shift in car ownership means car companies such as Ford are rethinking their business models, and looking to shift from being seen as a car manufacturer to a mobility company. What is fascinating about working on future mobility solutions is that we have the potential to have an impact on society and deal with escalating issues of pollution and urban gridlock. As designers, we should always aim to provide solutions that have a positive impact on the world.
How do you approach your work?
I have a very holistic approach to design. I work on projects that span physical and digital and work with teams of strategists, researchers, designers, and technologists. I am comfortable doing this because I've worked across several different disciplines myself. I started my career as a product designer and then shifted to interaction design in the early 1990s because so many products included digital technology—which invariably meant that these products featured a screen. To understand how to design the physical product it became increasingly important to understand what functionality should sit on the physical product, versus on the screen. Interaction design is about understanding the best way to interface with a machine. We're now very familiar with interfacing with a machine through a screen, but there are also many other ways to interface with a machine that go beyond the screen, such as voice and gestures. I am always interested in exploring new ways to interface with a machine.
All of my work centers on technology and the potential of technology. I always try to work with people who want to push the potential of technology but who are not blinded by it. For example, just because technology is capable of doing something does not necessarily mean it's the right thing to do. So often I see technology applied for the sake of it, rather than using technology to shift the paradigm of how live, work, or play.
Why are you participating in Forecast?
I want to be pushed to think in new ways, to face new challenges and question the status quo. Forecast is about having an equal partnership in creating something new. I have a certain set of experiences, so I'm looking to work with someone who can make me think differently. I want to be challenged and inspired. We both need to feel like we can grow and learn through this process. Everything is changing around us all the time and as designers, so we can never get complacent. I've spent a lot of time as an advisor to students and especially enjoy the dialogue that can occur. It opens my mind to think differently.
What do you find interesting about the mentoring process? What do you offer a mentee?
I offer 25 years of hands-on experience designing interactive products, services, and environments. I am looking to work with someone who is open-minded, flexible, and inspiring. It's important to me to work with someone who wants to create something new that also has a positive impact on the world.
I am open to working with a designer from any discipline (interaction, product, visual) but he or she must have an interest in creating a new digital product or service that has impact.
It's also important that the designer has the ability to bring their ideas to life. This means building a product or a service as a working prototype whenever possible, to enable us to experience the idea first-hand. A designer who has an interest or background in computer science, programming, and/or electronics is therefore critical.
The solution should ideally leverage technology in the next three to five years and aim to ideally shift the paradigm of how we interact with digital products today.
Read more about Smart Design and Heather Martin.